Installation Troubleshooting
Want us to Install?
Don't want to do the installation yourself? or require a hosted solution? Please click here for additional options. We can also install application on a dedicated cloud server (at DigitalOcean, Linode, etc.) that typically costs $5 to $30 USD per month.
Contact us for Installation help. We often reply within minutes.
Basic Diagnostic Tool
You can run the basic diagnostic tool by opening
http://server/<installation folder>/verify.php
in your browser. For example, if your installation is at example.com/wmdsed30 you should open
http://example.com/wmdsed30/verify.php
click to zoom
Have you added the cron-job?
It is very important that you setup a cronjob to do the lookup queue processing. Without this the application will not work.
The runq.php script needs to run every minute. Please don't change the cron interval to anything other than one minute. Shared hosting services may not allow cronjobs at 1 minute interval. Purchase a VPS or cloud server (that costs about the same as shared hosting) so that you have full control of the available CPU and memory.
ionCube loader for CLI
Please note that Debian and Ubuntu require that you configure a different php.ini file to load the ioncube loader. So the runq.php script will not run in command line mode if ionCube is not loaded for PHP CLI. In Debian/Ubuntu, the PHP ini file for CLI is at /etc/php5/cli/php.ini. Please see the tutorial for more details.
If you are running a Windows installation you may need to configure a second PHP.ini used by the command line version. For example, the bin/php folder in WAMP installations will contain a php.ini that is used by PHP CLI.
How to check if cronjob is running
Go to the 'Lookup Queue' tab in the main interface. This displays the last time the queue was processed. Notice the time and wait about a minute to check if the 'Queue Last Processed At' entry changes. If it does, the cronjob is running. Please make sure that you don't manually run the 'Process Queue' command from the interface or browser while waiting.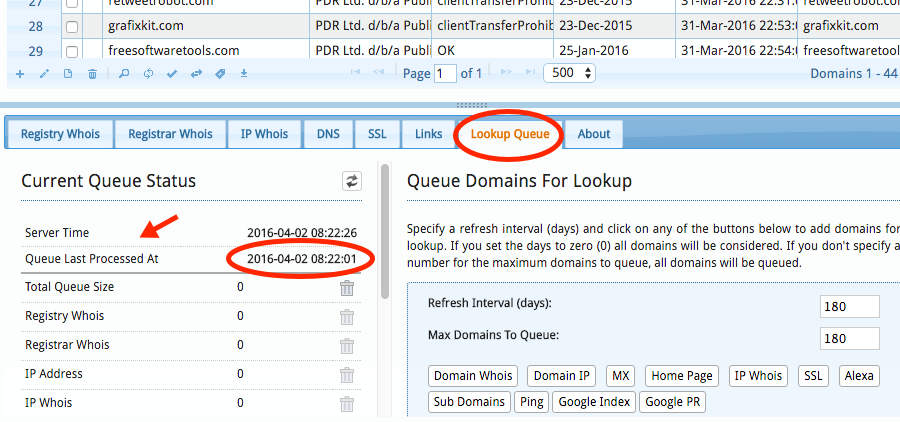 Completely Blank Screen?
Check if PDO_MySQL is installed if you see a completely blank screen when you open the application.
If you have a cPanel installation, you will need to login to WHM and use the EasyApache's PHP modules section to enable PDO_MySQL and then rebuild.
Unable to connect to whois server
Check your PHP log file. You may see a message like the following (mostly on CentOS)...
PHP fsockopen error - permission denied (13)
It means httpd has been denied permission to connect to that IP address and port. The most common cause of this is SELinux configuration not permitting httpd to make network connections.
To resolve it, you need to change an SELinux boolean value (this will persist across reboots). You may also want to restart httpd.
/usr/sbin/setsebool httpd_can_network_connect=1
click here for more information on httpd_selinux.
Please contact us if you still have whois connection problems.
FTP Upload Problems
In some cases your FTP uploads may not be complete and you will see a broken interface in your browser. In such cases upload the files again and make sure that all the files are fully over-written.
If you have SSH access, use wget to download and install the application instead of using FTP.
Check PHP Log Files
Check your PHP log files for clues. In most cases the installation problems will be related to ionCube and / or PHP modules.
Contact Us
If everything fails, contact us for help.