Free for 30 days (can be extended on request), payment or contact details are not required for downloading.

Supports most TLDs and ccTLDS, including the new global TLDs like Guru, Club, etc. IDNs are also supported.
---

Monitor expiry dates, name servers, domain contact addresses, associated A records, MX records, SSL data and more.
---

Primarily meant for businesses and individuals with domain name portfolio of 5000 or less domain names.

Registrar API Support
Import domains directly from your registrar using APIs. Currently supports GoDaddy, Resellerclub, Namecheap and Dynadot (more are being added) You can also obtain the records for your own domains using the API instead of regular Whois to ensure that data is not obfuscated.

Automatic Whois Configuration
Domain Punch Pro can perform an automatic whois configuration when you add a domain with a TLD that has not yet been setup. You don't need to do manual configurations or wait for a software update. With so many new TLDs becoming available, manually configuring each TLD is not a viable option. This feature makes managing domains really easy.
Monitor Expiry Dates, MX Records, SSL and More
Domain Punch Pro supports monitoring a large number of data related to domain names. These include domain expiry dates, creation dates, domain contacts, name servers, IP addresses, MX records, SSL certificate data and more.
All domain names that are expiring soon are highlighted and displayed with an alert icon next to it. You can also sort domains based on any of the columns (expiry date, name servers, IP address, etc.)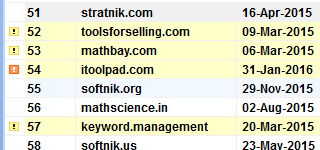 Categorize Domain Names into Different Groups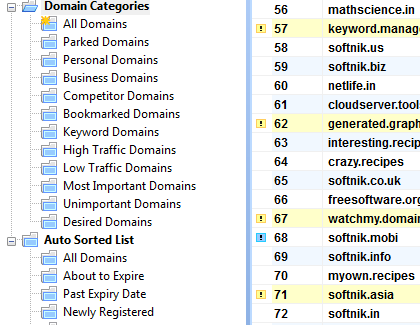 You can categorize your domain names into easily manageable groups. The domain category bar displays all the domain categories in a neat tree view. You can add, remove and rename the categories.
Domains can be moved from one category to another very easily. You can also automatically assign the domains to a specific category when they are being added to the portfolio.
A separate Auto sorted grouping allows you to quickly find domains that satisfy certain conditions. For example, you can quickly find domains that are past expiry date, domains that were newly registered, domains that were last checked more than 180 days ago, and so on.
More than just Domain Name Monitoring
Domain Punch Professional is the most advanced domain name management software and includes all the features of Watch My Domains Professional, Domain Name Analyzer Professional and more. Supports monitoring the web sites associated with the domain (including search engine link popularity, ping and http home page check), email alerts when the status of a domain changes.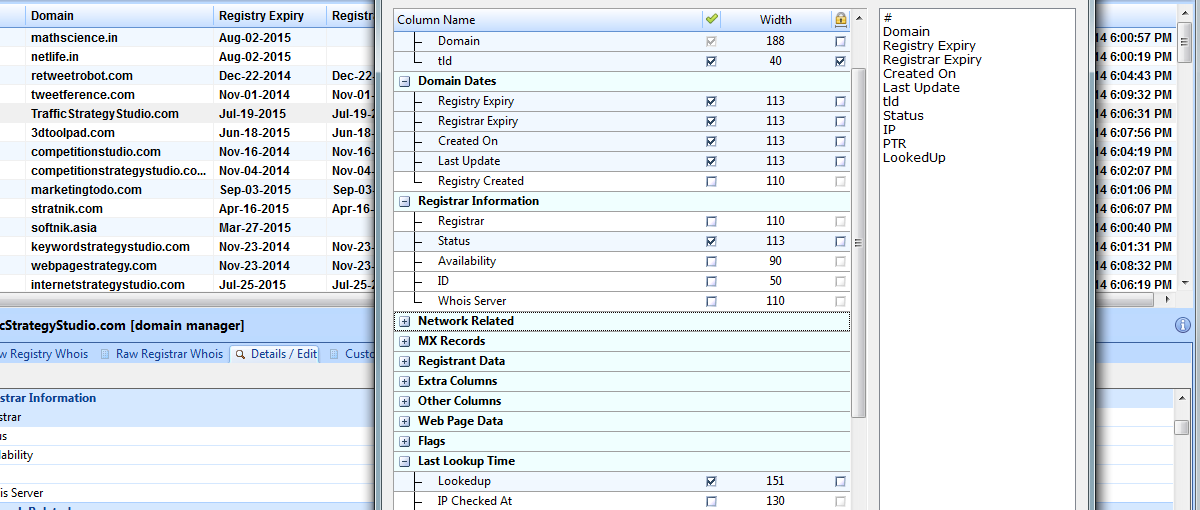 Manage Important Data Related To Domains!
---
You can also attach up to four "notes" columns in addition to the built-in columns. There is also an extra option to add a custom data block to each domain. You can type in and save anything you want into this custom data box.
Domain Expiry Dates Domain Creation Date Domain Last Update Date Domain Status (redemption, registrar-lock, etc.) Raw Whois Text Data Associated Name Servers Root and WWW IP Addresses Domain MX Records Domain Root Record TTL Values US Trademark Records SSL Certificate Data including Expiry Dates Web Visibility Data Monitor the Domain Home Page Data Integrated Domain Name Filter Registrar Related Information Domain Contact Records Domain Registrant Information Site Ping Information Custom Notes A,B,C,D
Manually Edit Data
---
You can manually edit most of the data columns in Domain Punch Pro. This is useful when some of the data is not available automatically from domain whois or otherwise.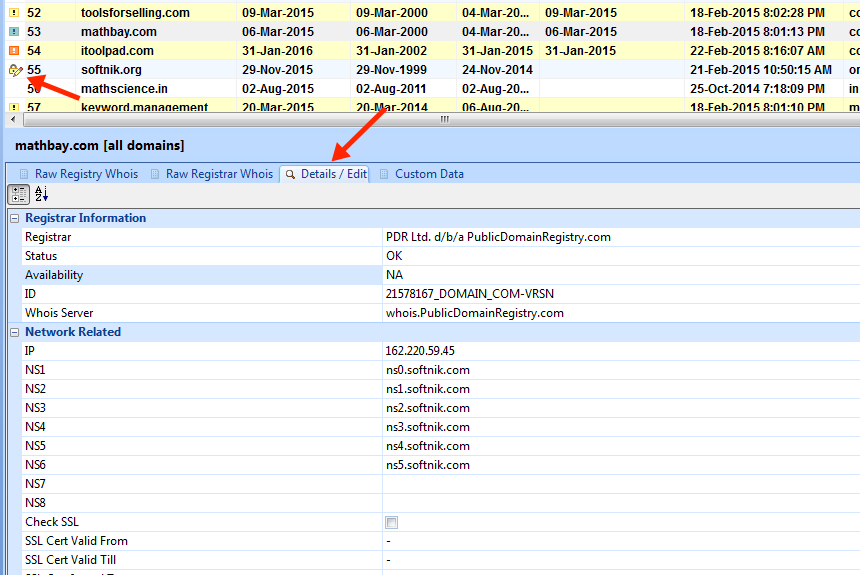 Manually edited columns are indicated in the domain table with a small "edited" icon. You can also "write-protect" domains that have been manually edited so that a subsequent lookup doesn't destroy your manual changes.
Automatic Lookups and Alerts
---
You can configure the software to perform lookups automatically at regular intervals. You can also specify various alert options.
Email alerts can be generated whenever changes are detected in domain records (between two consecutive whois lookups) or when specific text tokens are found in whois output.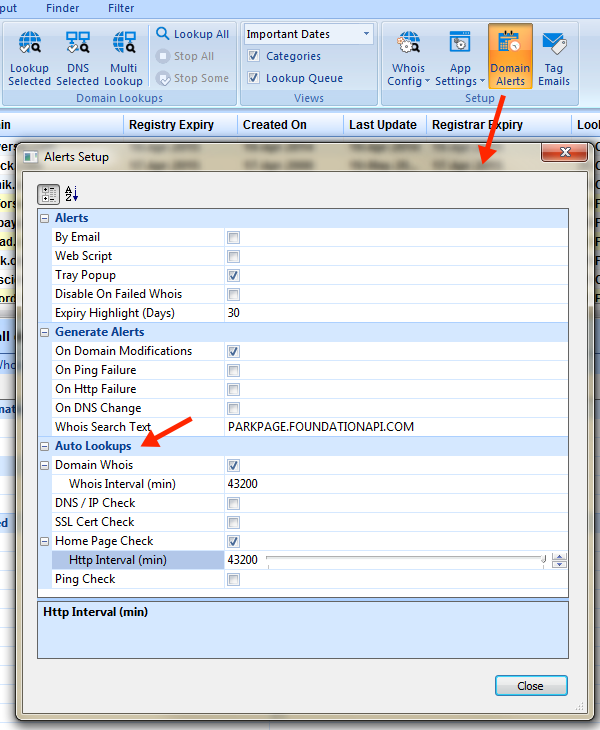 Five Quick Reasons to Use Domain Punch Pro

Domain Punch is not a domain spreadsheet. It is a powerful application that can automatically find & display all relevant domain related data (expiry, created and last updated dates, name servers, domain IP addresses)

Quickly find domains that need to be renewed every month. Ensure that you never lose a domain name because you forgot to renew it!

Find domains that point to invalid or wrong IP addresses. Watch My Domains tabulates the IP addresses each associated website is pointing to.

Find domains that have a wrong email contact. At all times make sure that you have control over your administrative email contact and your registrant email address is working.
Filter domain names from large lists. Remove domains that have specific characters / words, append or remove TLDs and more.