Domain Name Monitoring and Management Software Solutions
Solutions for Tracking and Managing Every Domain Name Related Record or Asset
For Mac OS X
Watch My Domains for Mac OS X
For Windows
Domain Punch Pro for Windows
Web / Cloud
Cloud Edition (Linux, Mac, Win)
Advanced Domain Name Management Solutions
Risk free 30 day trials. A credit card is not required for downloading trials
Advanced Domain Name Portfolio Management
Supports IDN (International Domain Names) like 在线, コム
Supports New gTLDs like .Club & .Online
Monitor Domain and SSL Expiry Dates, MX Records, Name Servers and More

Registrar API support

: Import domain names and retrieve data directly from select registrars like GoDaddy, Namecheap and Dynadot.
Domain & SSL Expiry Date Monitoring, Email Alerts
Windows versions support email alerts on non-periodic events. For example, send an alert if the website for a domain fails to respond.
The server edition supports daily / weekly / monthly email alerts in addition to on-screen monitoring.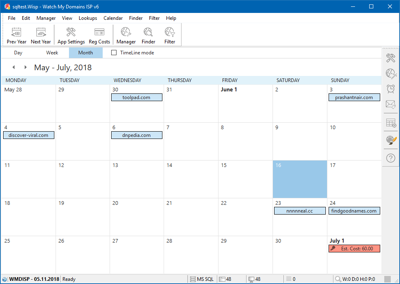 View your domains within an on-screen calendar.
Calendar View in Watch My Domains ISP displays the domains in a calendar on the corresponding expiry dates.
You can even configure the calendar to display the monthly registration costs by specifying the pricing for each TLD or ccTLD at different registrars.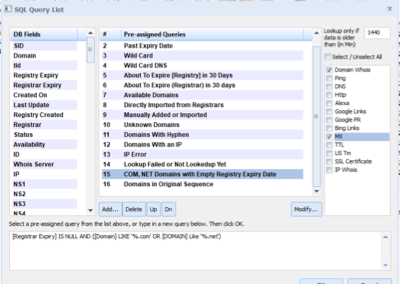 Database Support with Advanced SQL Queries
Choose between flat, MS Jet (Access), MS SQL, SQLite (on Mac) or MySQL database for data storage.
You can use advanced search queries to control display and lookup of domain names in products that use a database for data storage.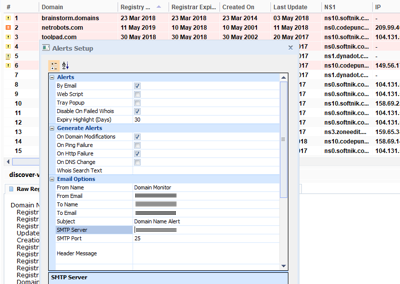 Custom Data Columns in Database Tables
You can create your own additional fields in the database and then view the data in the main interface table.
Both Watch My Domains ISP (Windows) and Watch My Domains SED (server) support any number of custom data columns.