Domain Name Management Software
Providing Domain Name Solutions for the last 18 years.
Applications to Manage Your Domain Name Portfolio. Software Solutions for Windows, Linux (+Wine) & Mac Desktop or Cloud / Web.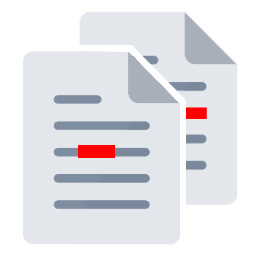 Compare Products compare domain name management solutions
Risk free 30 day trials. A credit card is not required for downloading trials
Advanced Domain Name Portfolio Management
Supports IDN (International Domain Names) like 在线, コム
Supports New gTLDs like .Club & .Online
Support For Registrar APIs wherever available
Monitor Domain and SSL Expiry Dates, MX Records, Name Servers and More
Why not use a spreadsheet?
---
A Spreadsheet can never match the benefits of using a dedicated domain portfolio management application. Our applications can automatically retrieve all relevant domain related data (like expiry, created and last updated dates, name servers, domain "A" records, associated MX records, SSL certificate expiry dates), generate alerts and more.
Database Support with Advanced SQL Queries
Depending on the product and OS you can choose between flat, MS Jet (Access), MS SQL, SQLite (on Mac) or MySQL database for data storage.
You can use advanced search queries to control display and lookup of domain names in products that use a database for data storage.
Calendar View
Watch My Domains ISP includes a domain calendar that allows you to view the domains in your portfolio within an on-screen calendar. The domains are displayed based on their expiry dates.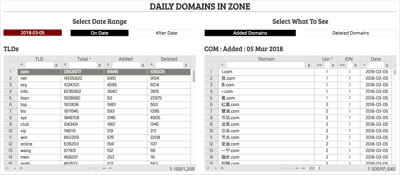 ---
Domain / gTLD Statistical Tools
How many COM or Net domains were added to zone yesterday? Which domains were deleted from Zone? Online interactive tools that are updated daily.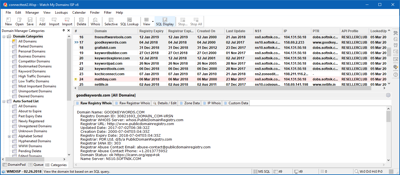 ---
Domain Name Management Tools
Manage your domain names using a range of domain portfolio management software products, available for desktops & web servers.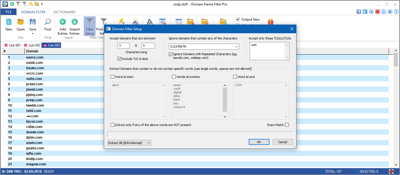 ---
Domain Name Search & Filtering
Find Good Domain Names. All the domain name filtering and domain name search software products have moved to Brainstorm.Domains
Domain Management
Integrating Estibot Data into Watch My Domains SED
---
Watch My Domains SED includes a script for integrating the various Estibot data (Appraised Value, Category, Average CPC, etc) into the domain data table.
Domain Management
Integrating MOZ Data into Watch My Domains SED
---
Watch My Domains SED also supports integrating data from MOZ (Appraised Value, Category, Average CPC, etc) into the domain data table.
Domain Names
Domain Name Generators
---
Explains methods of generating domain names from keywords and character templates.
As an example, want a list of all possible 9 character .link domains that end with the word expert?
The article also provides a simple method for manually creating pronounceable words (for use as new branded domain names).
A Textual Logo and Graphical Banner Design Software for Domainers
---
Do you have a large number of domain names and want to quickly create logos for many of them?
Domain Logo Designer (free and Professional Edition) is a powerful Windows software for quickly creating textual graphics. You can use it to create logos, textual designs, attractive headlines that grab attention, graphical banners and more. There is no expertise required. All you need to do is type in the text and pick a few options.
Domain Logo Designer is not a substitute for Photoshop or GIMP, but is very handy when you need to quickly create logos for your own use or for your clients. The logo on the right was created using Domain Logo Designer Pro in a few minutes.