Corporate domain name management software for the cloud / web
Watch My Domains SED
Watch My Domains SED is a cloud / web server installable version of our domain portfolio management tools and is also the most advanced and extensible software solution available from us.
Install on your own server or have us host it for you Brandable Source Code Available Multi User Support (optional 2FA) Audit Trail Monitor Domains, Subdomains, MX, SSL Certificates, SPF, DMARC, specified DKIM & More Periodic Email Alerts Custom Reports Access from anywhere & any device
Cloud / Web Access
Always On Periodic Email Reports Secure Multi User Access Two Factor Authentication (2FA)
The Web server version has the advantage of being accessible from anywhere and from any browser enabled device. You are also not limited by the choice of your OS. It will work from Windows, Mac, iPhone, Android Phone, iPads etc.
Another advantage of Watch My Domains SED is that it is always on. The desktop versions require that you switch on your computer and run the software, the server edition is always on and can continuously monitor domain records.
Since the server edition is always running, it is far more easier to generate daily, weekly or monthly email alert reports. There are a number of custom scripts available that will make it very simple to have emails sent to you automatically. All you need to do is provide the email addresses.
Fast, Ajax Powered, Brandable, Desktop Like Interface
Watch My Domains SED has a pleasing Ajax powered interface that is smooth and fast. It works on all modern browsers and you can access the application from desktops, laptops and tablets. Interface is very similar to the desktop versions and the transition from desktop to server edition is very easy and smooth.
It is possible to brand your installation by changing the application logo, icon and links within the application. You can also choose a suitable color theme.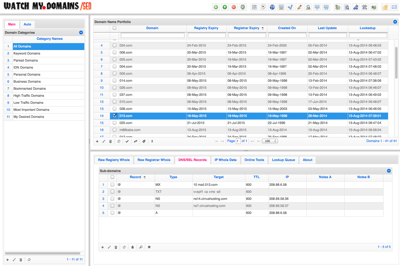 multiple themes brandable PHP SDK
Third Party Data Integration
You can use the PHP SDK to integrate data from the domain database into your own website. You can also use it to integrate data from third party resources like MOZ and Estibot (sample scripts are already available for integrating Estibot and MOZ data).
You can easily integrate data from third party resources into the application interface.
Estibot MOZ
It is also easy to add support for other third party resources. You can contact us if you need help.
Automatic Whois Configuration
Watch My Domains SED can perform an automatic whois configuration when you add a domain with a TLD that has not yet been setup. You don't need to do manual configurations or wait for a software update. With so many new TLDs becoming available, manually configuring each TLD is not a viable option. This feature makes managing domains really easy.
Single Point Interface to Monitor Domains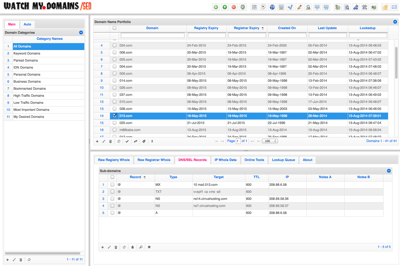 You can use Watch My Domains SED to monitor a large number of data related to domain names.
Domain Expiry Dates Domain Creation Date Domain Last Update Date Domain Status (redemption, registrar-lock, etc.) Raw Whois Text Data Associated Name Servers Root and WWW IP Addresses IP AS Number and Names Domain MX Records TXT, SPF, DMARC Records Specified DKIM Records Domain Root Record TTL Values US Trademark Records SSL Certificate Data including Expiry Dates SSL SAN Info Web Visibility Data Monitor the Domain Home Page Data Integrated Domain Name Filter Registrar Related Information Domain Contact Records if available Domain Registrant Information Site Ping Information Any number of Custom Data Columns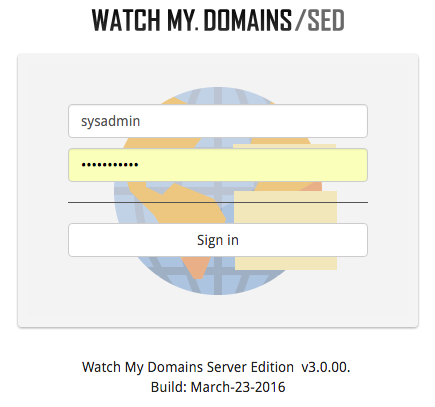 Multi User Support with Access Rights
Create different users and assign one or more domain categories they can administer. This makes it easy for managing domains that belong to different departments. You can also assign different access rights like "view", "view+edit", "view+edit+add+delete", etc. to users.
Watch My Domains SED also supports Two Factor Authentication (2FA) using either 'Duo Security' or 'Google Authenticator'.
Subdomain Manager
---
You can monitor all your hostnames, domains, subdomains, A and PTR records, NS Records, TXT records, SPF & DMARC Records, specified DKIM records, assigned IP addresses, SSL certficate issuer, SS expiry dates and more from the suddomain manager. You can also assign up to four different custom notes to each subdomain entry.

Categorize Domain Names into Different Groups
You can categorize your domain names into easily manageable groups. The domain category bar displays all the domain categories in a neat tree view. You can add, remove and rename the categories.
Domains can be moved from one category to another very easily. You can also automatically assign the domains to a specific category when they are being added to the portfolio.
A separate Auto sorted grouping allows you to quickly find domains that satisfy certain conditions. For example, you can quickly find domains that are past expiry date, domains that were newly registered, domains that were last checked more than 180 days ago, and so on.
Custom Data Columns
---
You can add any number of custom data columns (called custom domain fields) to the database and have those columns displayed as part of the application interface.
As you can see from the screen-shot, you can create custom column names in any language.
You can also edit the column values or import data into the database from a CSV file.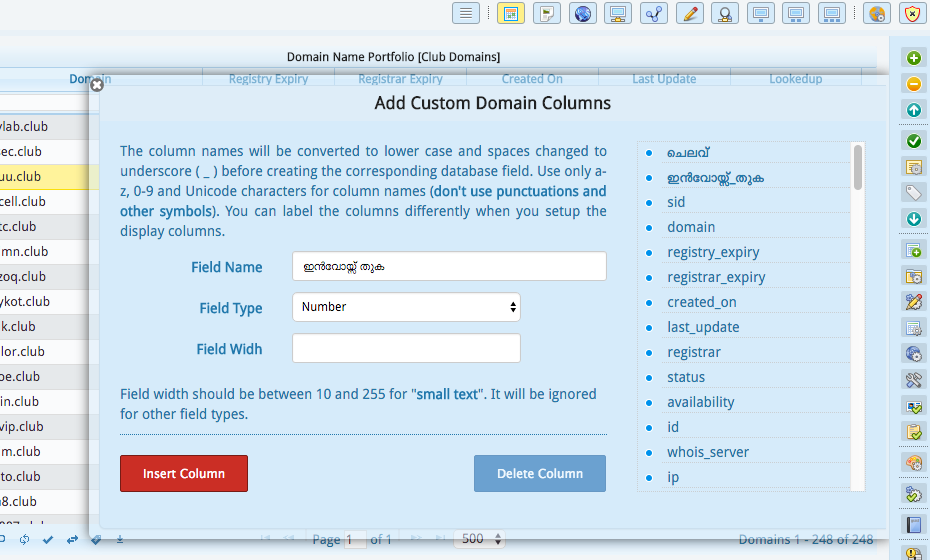 Manually Edit Data
---
You can manually edit most of the data columns in Watch My Domains SED. This is useful when some of the data is not available automatically from domain whois or otherwise.
Manually edited columns are indicated in the domain table with a small "edited" icon. You can also "write-protect" domains that have been manually edited so that a subsequent lookup doesn't destroy your manual changes.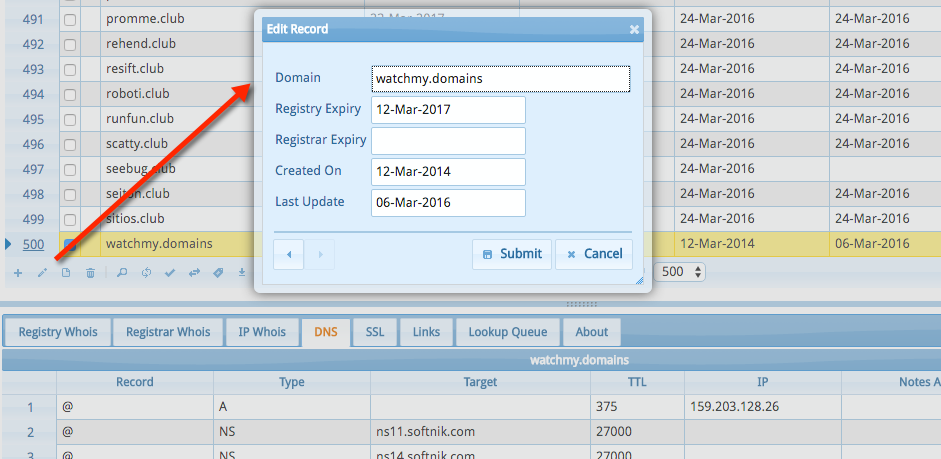 Bulk Edit Data
---
You can can also manually bulk-edit multiple domains and enter the same data into a column.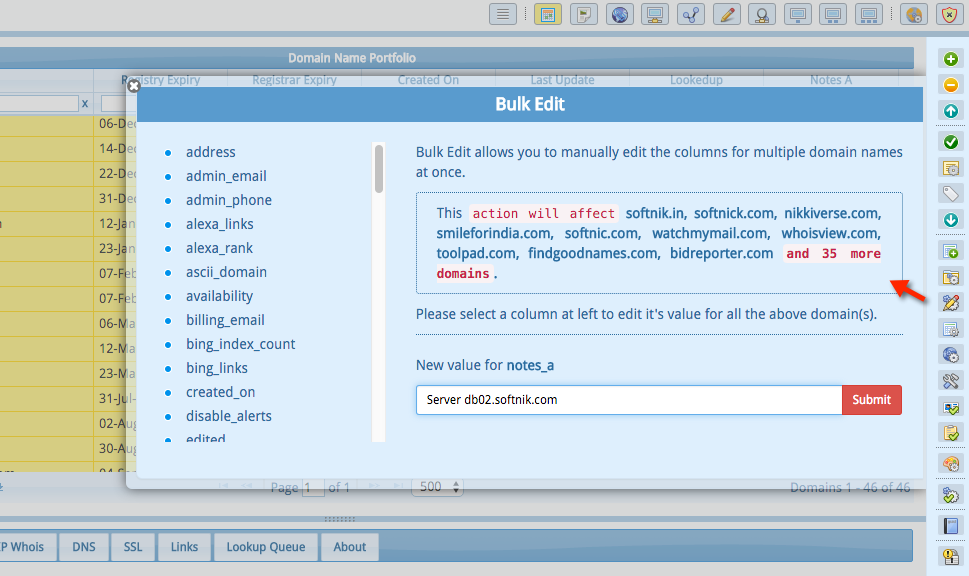 Domain Data Display Groups
Watch My Domains SED features a number of display groups that allow you to view the whole domain related data easily and quickly. For example, the "Important Dates" group lists the various expiry, created and last updated dates, the "Network Related Data" displays the name server records, IP address etc. You can completely configure what columns go into each group.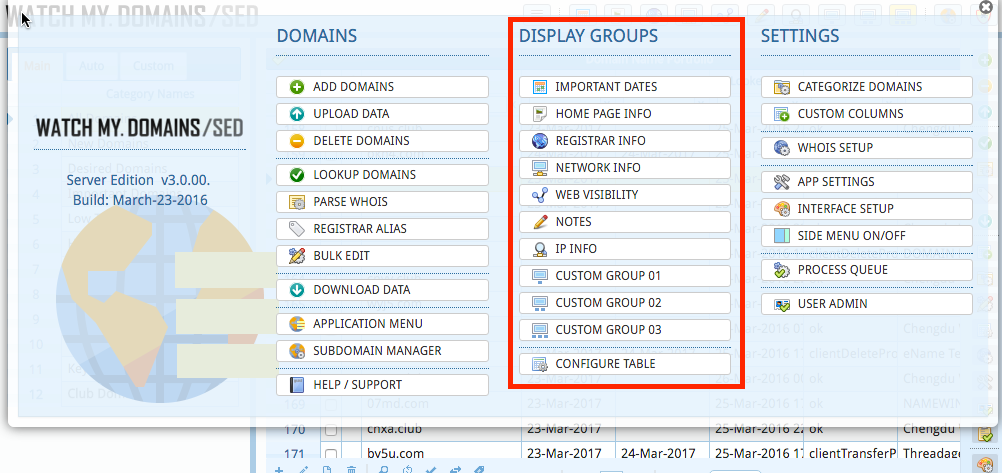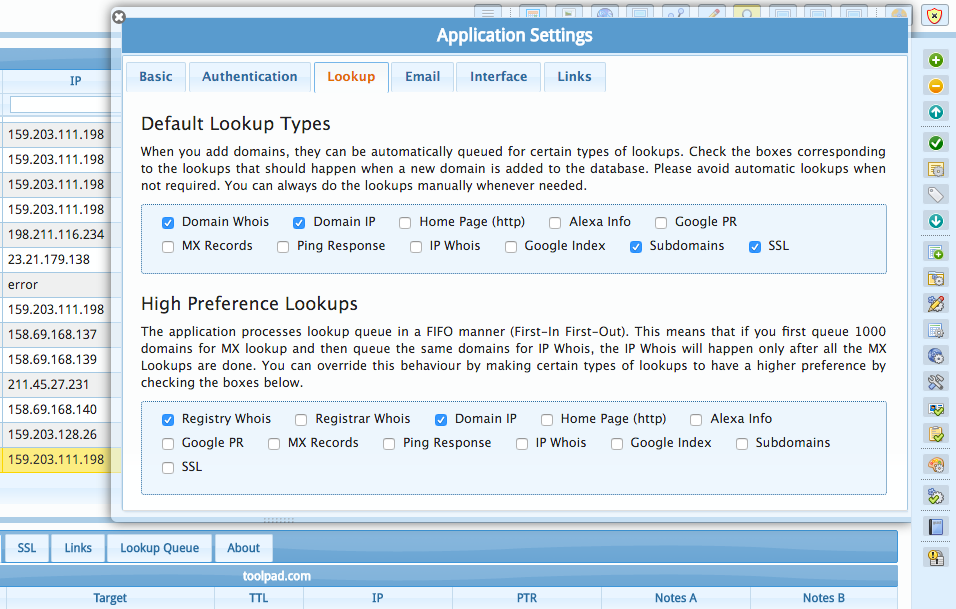 Automatic Domain Lookups
You can configure the software to perform lookups automatically at regular intervals. You can also specify which types of lookups should be given higher priorities.
Five Quick Reasons to Use Watch My Domains SED

Watch My Domains SED is not a domain spreadsheet. It is a powerful application that can automatically find & display all relevant domain related data (expiry, created and last updated dates, name servers, domain IP addresses)

Quickly find domains that need to be renewed every month. Ensure that you never lose a domain name because you forgot to renew it!

Find domains that point to invalid or wrong IP addresses. Watch My Domains tabulates the IP addresses each associated website is pointing to.

Find domains that have a wrong email contact. At all times make sure that you have control over your administrative email contact and your registrant email address is working. The support for this depends on this information being available.

Add any number of custom data columns. Add your information to the database by manually typing-in or by importing from a CSV file.
Fully Managed & Dedicated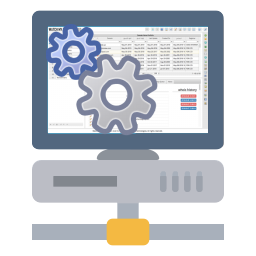 We will setup a fully managed and dedicated production level installation for you to evaluate and then subscribe. We will take care of all the technical stuff. Some conditions apply.
Self Hosted, We Install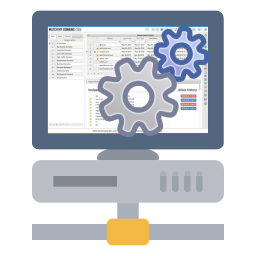 Let us install on your server, use an existing server or a third party provider. You will need to provide us information about your or third party provided server.
Self Hosted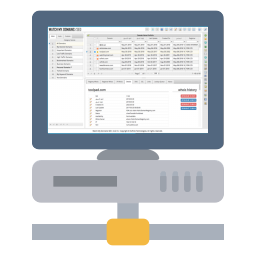 Install on your own server, requires that you have access to a web server. There is no need to provide any contact information before you download.
Free for 30 days (may be extended for additional 15 days at a time to as many times, within reasonable limits), payment details are not required for evaluation.