Advanced Textual Logo Design Software
Domain Logo Designer Pro for Windows
What is Domain Logo Designer pro?
---
Domain Logo Designer Pro is a Windows software that will help you create good looking textual domain logos in a few minutes. It is not a substitute for Photoshop or GIMP, but is very handy when you need to quickly create logos for your own use or for your clients.
Domain Logo Designer is a powerful software for quickly creating textual graphics. You can use it to create logos, textual designs, attractive paragraph headlines that grab attention, graphical banners and more. There is no expertise required. All you need to do is type in the text and pick a few options.
A Typical Logo / Banner
---

The above banner has...
Two Text Objects. You can add multiple text objects (and also images) in the Pro version.
Fonts for each text object
Three colors for each text object - a top fill color, a bottom fill color and the outline color. Any color you select can have a transparency (fully transparent to fully opaque). Instead of picking three colors, you can simply pick a style from a library. Each style has the font and these colors already set.
An optional background image which you can pick / change any time
A optional background fill pattern - select from a number of patterns and pick colors for the pattern as well as the fill background.
A optional shadow and it's color
An optional reflection. You can enable / disable it.
You can Insert Images
You can add custom images to the logo. Then align the text and image objects to create the perfect logo.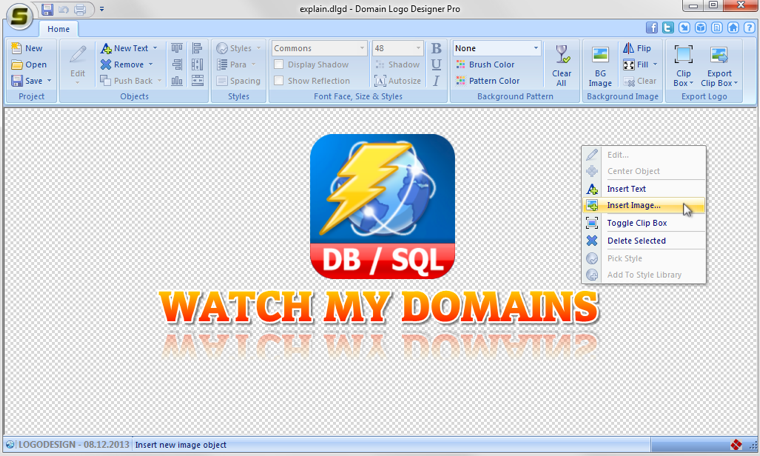 Here are some Samples
---
Each took less than a few minutes to create and have fully transparent backgrounds.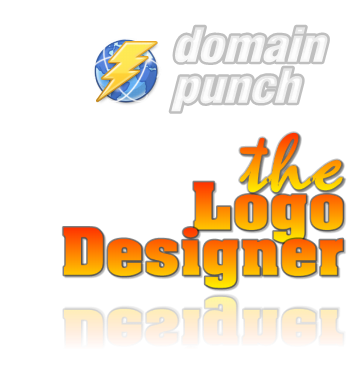 Domain Logo Designer allows you to add multiple text objects to your design. The free version supports only a single text object.
Style Library
---
Domain Logo Designer Pro has a style library that allows you to pick a design from a number of styles. You can also add your own designs to the library with a single click and then re-use the same design for other logos.