Research, Find and Manage Available Domain Names
Domain Name Analyzer Professional
Automatic support for new global TLDs, International Domain Names (IDN) and country code TLDs.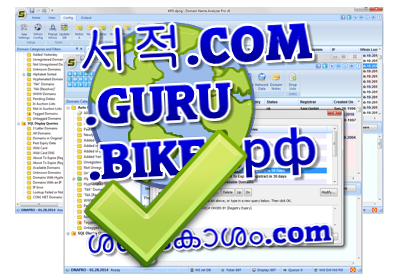 Research, Find and Manage Available Domain Names
---
Domain Name Analyzer Professional is a power packed domain name generator & search software and is even more advanced than the award winning free Domain Name Analyzer.
If you manage or administer any web related business and are looking to find good domain names you really need Domain Name Analyzer Professional.
Domain Name Analyzer Pro supports display of additional data (expiry and creation dates, name server information...), tagging domains, secondary whois lookups (for thin model whois TLDs like COM, NET, TV...). This is not available in the free version.
Nominet DAC lookup support is another feature available in Domain Name Analyzer Pro, but not in the free version.
Enhancements over Free Domain Name Analyzer
---
Domain Name Analyzer Pro can automatically configure the whois settings for most new global TLDs like Guru, Today, Club, etc. without the need for manual configuration. The free version requires that you manually configure the software or wait for an update that includes the configuration.
Domain Name Analyzer Pro supports user configurable SQL display queries that allow you to display only the domains you want based on any number of different parameters.
Another additional feature is the ability to attach notes to each domain.
Minimize Whois Lookups
---
By default, the software minimizes whois lookups by checking if the domain resolves to a valid IP address and performs a whois lookup only if required. You can turn this feature off in the 'Application Settings'.
Testimonials
---
"First of all, your program ROCKS! I have been using WhoisNot, but now I'll use DNA Professional".
William Schuedding, RbConnect.Com
"I LOVE how your software checks for available domains. I have tried 4 other domain checkers before yours and I must say yours is the BEST"
Blake Schiafone, Fort Myers, FL
"I had some questions fine tuning Domain Name Analyzer to my needs, and I got a reply to all my questions... within the hour!
NET.SPECS Team
netspecs.org
---
Supports IDN (International Domain Names)
---
An absolutely essential domain search tool for the Power User!
Wish to sort domain names by their expiry dates? Never lose a domain name because you forgot to renew it! Make sure that you renew your valuable domains in time.
Want to create a list of all 5 character domain names that start with 'a' and end in 'web' and then check them all for availability? How about all 4 character names?
Power packed domain list display in v6 contains columns for domain registry status, expiry date and availability status.
Want complete control on how the domain names are looked up? Configure the number of simultaneous connections and connection interval for each and every whois server. You can now make more connections to whois servers that allow it and still ensure that you don't violate the terms of other whois servers.
Need to perform high speed availability checks with minimum whois lookups? The software may be configured to avoid whois lookups for domains that have an associated website. This will help ensure that your IP is not banned by registrars for too many whois lookups.
Note: Many ISPs often redirect unregistsred domain names to a default web page. Domain Name Analyzer Pro v6 will automatically detect such IP addresses and ignore them (when doing a quick domain check based on domain IP addresses)
Want to make use of the high speed availability check options supported by certain registrars? This is available whenever the registrar supports it through a special whois server or through a special query parameter.
Want to obtain the actual ownership information of com, net and org domains automatically? Domain Name Analyzer Pro will find the actual whois server for the domain and then retrieve the information.
Want to quickly check if a large list of domain names have a related website or if they are simply registered and then not used at all?
Want to easily manage your records, sort domain names by expiry and creation dates?