Customer Support Center - Contact Us
Softnik Technologies
1013, DBS Office Business Center
31A Cathedral Garden Road
Chennai - 600034, India


---

---
We provide efficient and speedy assistance through email. If you have unresolved problems or have a completely different technical requirement please contact...
---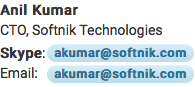 Thank You!
Thank you for contacting us! We will get back to you within the next 8 hours or less.
Problem!
Unable to send email, please contact us directly using the email address listed on the left or above.