Report Viewer
The report viewer (known as subdomain manager in earlier versions) allows you to see all your domains and subdomains in a single place. You can sort, filter, add and delete subdomains from the report viewer.

Use the report viewer toolbar button to access the report viewer.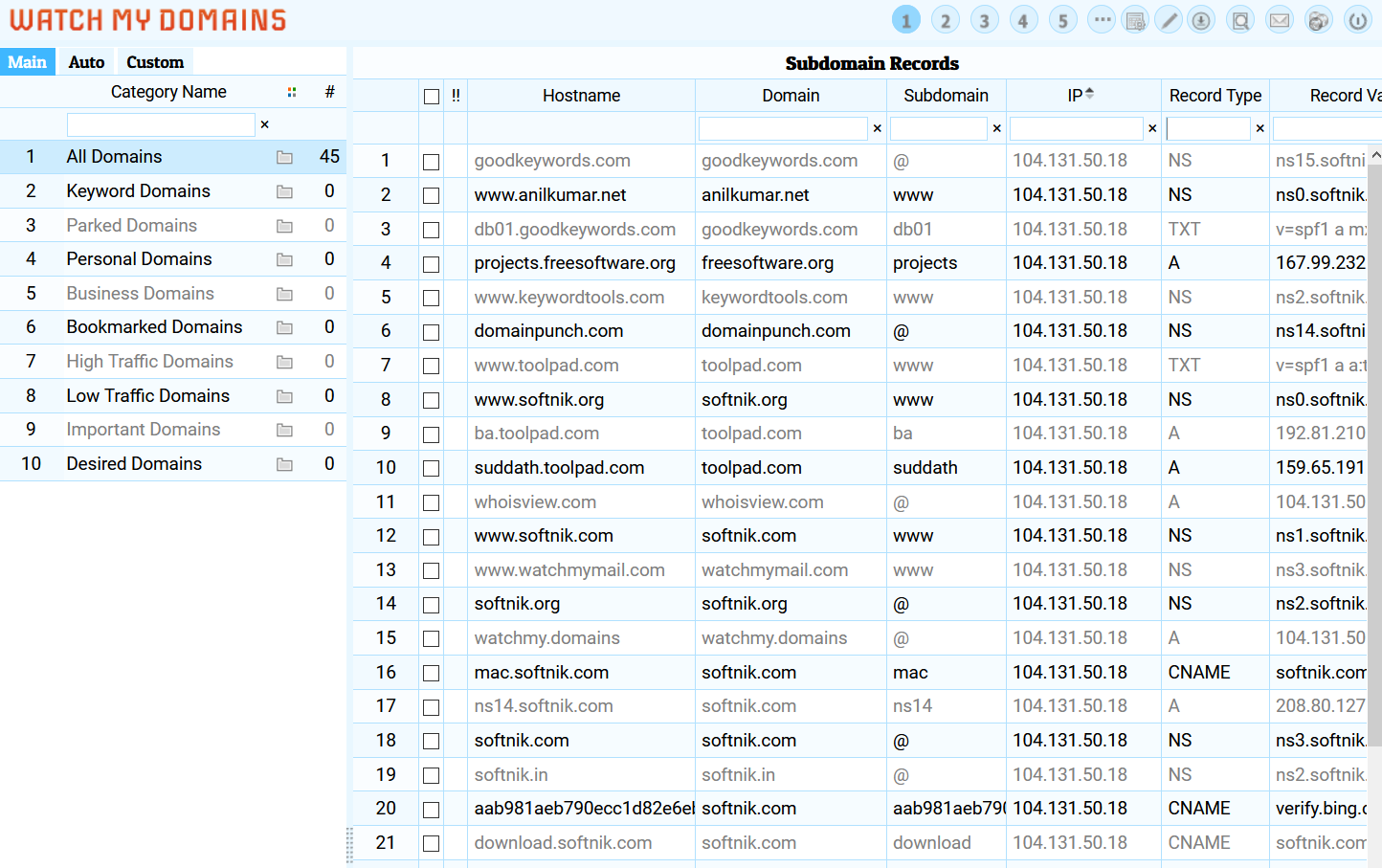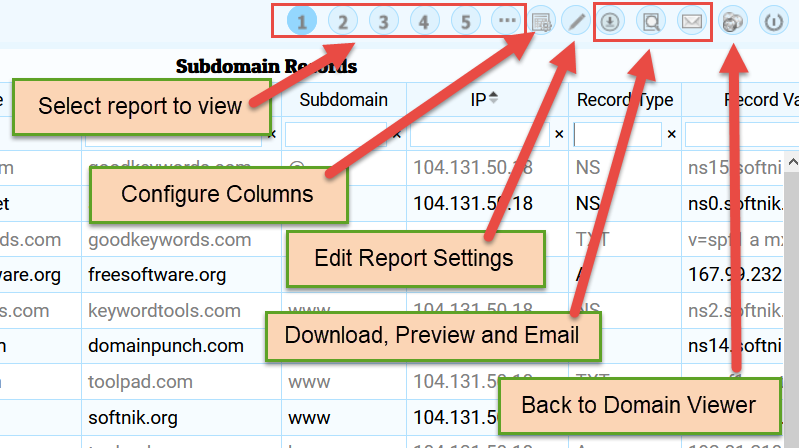 Creating Report Views
Watch My Domains SED has a number of pre-configured reports and you can also create any number of additional reports.
You can create any number of different reports using the administration module. Use the top toolbar buttons in report viewer to select the appropriate report. You can also manually download the CSV data and or email the reports from within the report viewer.
To configure the columns you should use the 'Setup Columns' button in the top toolbar of the 'Report Viewer'
The 'Days To Expiry' Column
The report viewer has a user configurable column called 'Days'. This column refers to 'days till nearest expiry' and can change for the same domain based on the other columns in the report.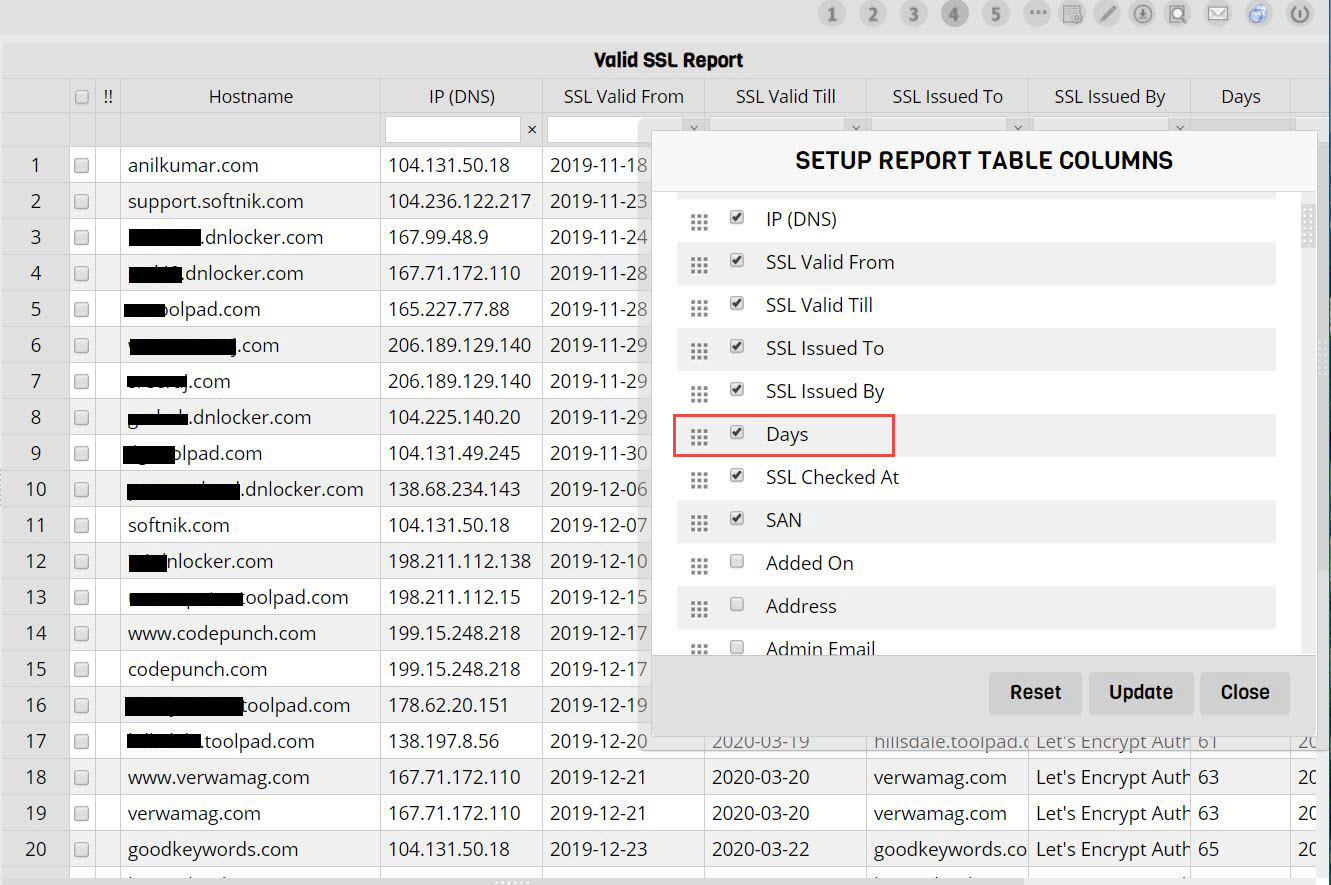 | | |
| --- | --- |
| Contents of Report | Contents of 'Days' Column |
| Contains SSL Expiry Date Column | Days to SSL Expiry |
| Contains Domain Registry Expiry Date | Days to Registry Expiry |
| Contains Domain Registrar Expiry Date | Days to Registrar Expiry |
| Contains Domain Registrar Expiry and Registry Expiry Dates | Days to nearest Expiry Date (Registry / Registrar Expiry Date whichever occurs first) |
| Contains SSL, Domain Registrar Expiry and Registry Expiry Dates | Days to nearest Expiry Date (Registry / Registrar /SSL Expiry Date whichever occurs first) |