Domain Name Analyzer for Mac OS X
Domain Name Analyzer is a free Mac OS X software for finding the best domain name for your product or business.
Use Domain Name Analyzer to create domain names from keywords or alpha-numeric templates and quickly check them for availability. It also supports International Domain Names (IDN)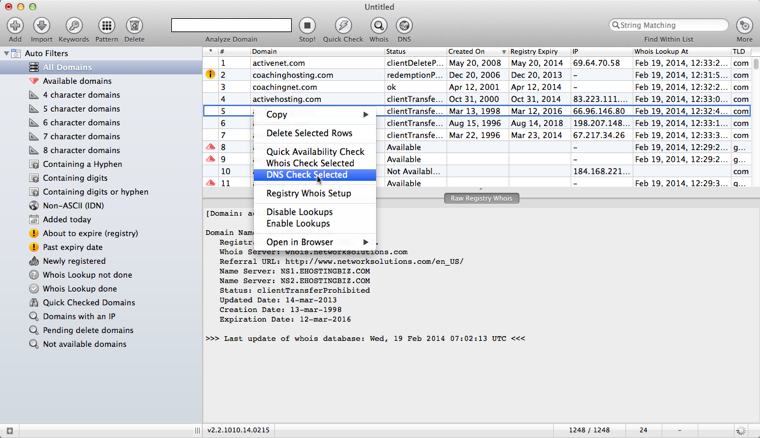 Why do you need Domain Name Analyzer?
Domain Name Analyzer is not a simple domain name / whois utility. It is a complete application that combines ease of use with powerful features.
Supports International Domain Names (IDN)
Support for all TLDs and ccTLDs tat have a valid port 43 whois server. You can configure support for new TLDs and ccTLDs on your own.
Create domain names using multiple methods including from keywords and alpha-numeric templates
Lookup domain names for availability using a quick check (with minimum whois queries) method or direct whois query.
Check if the registered domains have a corresponding website (or is simply registered and abandoned)
Obtain registry expiry dates for domains that are not available
Nice clean tabular layout that displays multiple information
You can save your domain name research data to your hard disk and retrieve it whenever you want.
You can take print-outs and / or create PDF reports
Filter your domain list using a simple text filter or using any of the several automatic filters.