Domain Name Software Bundle for Windows
What's Included?
This bundle includes the following products.
Domain Punch Professional (latest) - $129
Domain Name Filter Pro (latest) - Currently $59
Domain Name Analyzer Pro (latest) - $49
Save $88
Get Domain Name Analyzer Pro and Domain Name Filter Pro for just $20 when you purchase this bundle!
You will receive the registration codes for each product in separate emails after the purchase is completed.
Domain Name Filter Pro is a very useful software for finding domains pending delete or domains that are about to drop and also contain the keywords you want. You can download domain drop lists from various registrars and filter them from within the software itself.
Buy Using Paypal

Secure shopping made faster, shop without retyping payment details. You can use your credit card even if you don't have a Paypal account.
Buy From Fastspring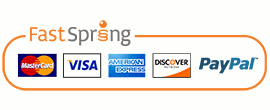 FastSpring accepts credit cards, PayPal, Amazon Payments, Bank Wire Transfers, Check or Money Order, Purchase Orders & certain Real Time Bank Transfers.
---
Single User License - $149 $237
You will be asked for the licensee name after you enter payment details
Your billing address will determine the available payment options and local taxes (if any).
Just $20 Extra!
Instead of buying only Domain Punch Pro, pay just $20 more and get an entire Windows Domain Name Software Bundle that includes 3 great products.