Corporate DNS, SSL, Domain Name Management & Monitoring Software Platform
Monitor domain and SSL expiry dates, web pages, DNS records including A, CNAME, NS, MX, TXT/ SPF/ DKIM, Track Dangling DNS entries and more.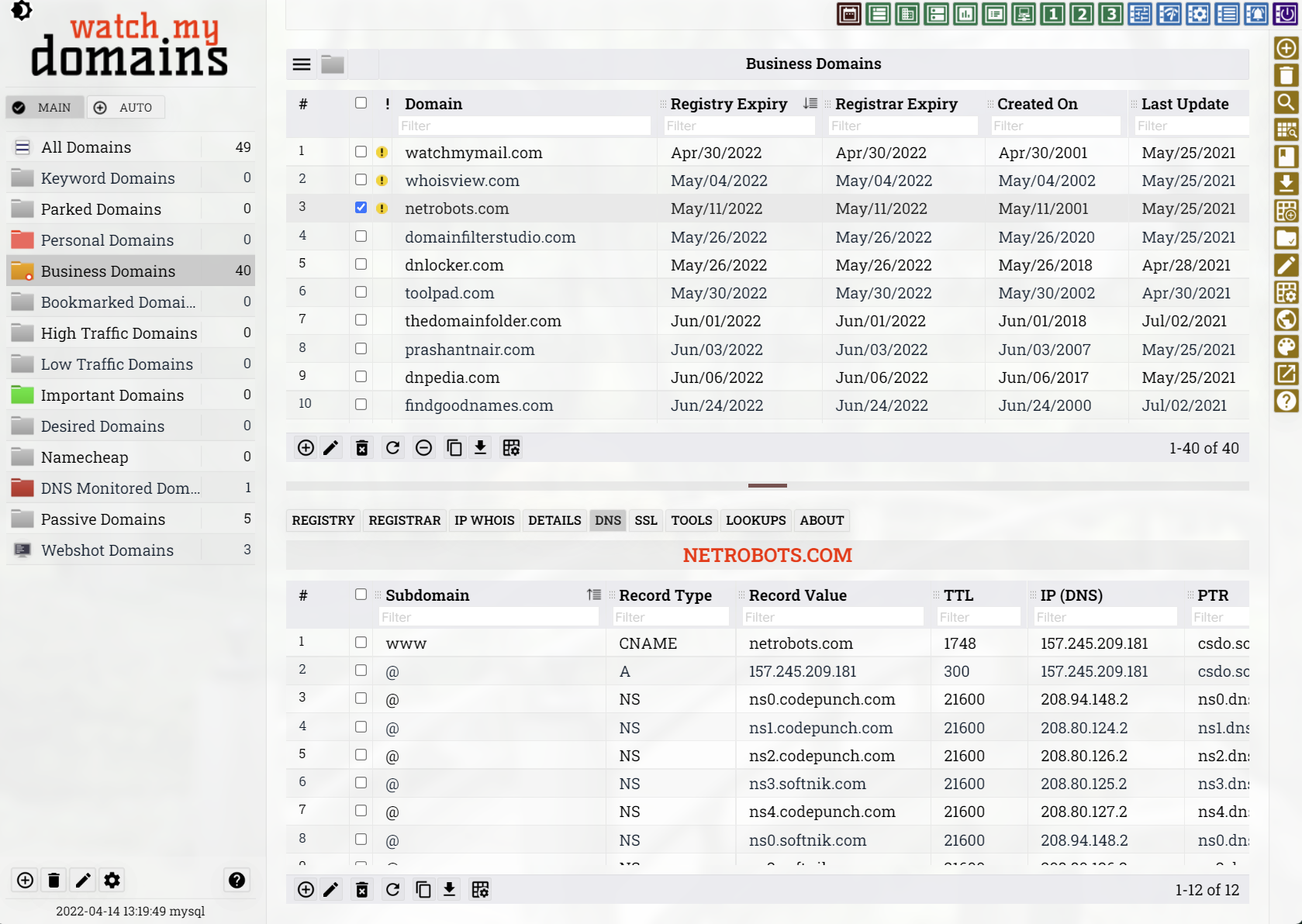 Watch My Domains SED v5 for Cloud / Web Server
Domain Name Management
Watch My Domains SED is a web/cloud-based application and platform for the management of domain names, SSL certificates, DNS records and any other associated data.

Domain Name Monitoring
Monitor any and all domain name related data through registrar APIs, whois or RDAP servers.
Receive alerts when changes are noticed in DNS records, domain name records and more.

Protect from Subdomain Takeovers
Tracking DNS A and CNAME records will help you quickly find dangling records for subdomains you no longer use.
Subdomain takeovers are a common, severe threat for organizations that regularly create, and delete many resources.

On-premise or SaaS
Install it on your servers within your network as a self-hosted private application (on-premise installation) or access it from a dedicated private installation that we will manage for you (Software as a Service, SaaS).

API Support
Easily integrate Watch My Domains SED with your existing corporate applications.
Your other applications can access the data from Watch My Domains SED using the API.

White Label / Branding
Brand your installation by changing the application logo, icon and links within the application.
Customize color schemes and themes.

Audit Trail
The audit trail allows you to keep track of who logged in and made changes. All transactions like adding records, deleting records, downloading data are tracked and logged.

Choice of Backend Database
Supports multiple databases (MySQL, Oracle, MS SQL, PostgreSQL, SQLite) for backend storage. Choose whatever your organization has already invested in.

Source Code
The enterprise support plans include full access to the source code so that you can assess and modify the application the way you require it.

Technical Support
Opt for technical support options that include customizations or even additional custom code development. Support contracts may be yearly or for up to 3 years at a time.

Free Trial
Download the application and try it yourself or contact us to set up a dedicated private installation just for you.
We can install it on your servers as well, if you wish.

Established Software
Watch My Domains family of domain name management software solutions is well tested and has been used by tens of thousands of satisfied customers for over 23 years.

SSO/SAML & 2FA Support
Setup Single Sign-On (SSO) by specifying the details from your identity provider (Google, OneLogin, Azure AD...)
Two Factor Authentication (2FA) is also supported.

Single Point Interface
Watch My Domains SED is a single point interface to monitor and manage all your domain name related assets.

Domain Data Columns
Track and monitor a large number of data associated with domain names. Assign access levels to data columns for secure access.

Secure Multi User Access
Create different users, assign domain categories and access levels to users. Easily handle department based access to different data.

Third Party Data Integration
Integrate data from other third party resources like DotDB, DnPedia, MOZ, EstiBot, etc.

Custom Data Columns
Add any number of custom data columns to the database and have those columns displayed as part of the application interface.
Categorize Domains
Categorize domain names into easily manageable groups. Do bulk actions on individual domains, selected domains or on all domains in a category.

Import Directly from Registrars
Import data from registrars and other third party providers like GoDaddy, NameCheap, Dynadot, Internet.BS, NameSilo, ResellerClub etc or from CSV files.

Manually Edit Data
Manually edit the data columns to fix any missing or wrong information or to add custom data column data.

Organize Display groups
Preconfigured and customizable display groups allow you to pick the columns you want to see in the data tables.

Daily, Weekly, Monthly Reports
Create custom reports that contain the exact data you are interested in and have them emailed directly to one or more specified email addresses.