Buy Watch My Domains Server Edition
Option A: Buy Using Paypal

Secure shopping made faster, shop without retyping payment details. You can use your credit card even if you don't have a Paypal account.
Option B: Buy From Fastspring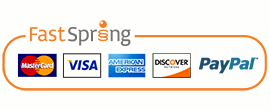 FastSpring accepts credit cards, PayPal, Amazon Payments, Bank Wire Transfers, Check or Money Order, Purchase Orders & certain Real Time Bank Transfers.
Standard Edition
The Standard edition of Watch My Domains SED is same as the demo version. You will receive a valid license code after purchase. It requires ionCube Loader installed on server because some parts of the code are encrypted.
A free PHP library that will help you integrate data from the domain portfolio database into your own web pages or other applications is available at no extra cost. This is available as part of all editions.
Note: You can upgrade from standard to professional license at any time by paying the difference in price.
Basic Edition
The basic edition is same as standard edition except that will not allow you to create multiple users with configurable access rights. Basic edition is also not suitable if you require customizations or add-ons.
Professional Edition
The professional edition includes all the features of standard edition plus...
Complete unencrypted source code of the web server application.
Ability to monitor keywords / trademarks in newly registered domain names. This is limited to most gTLDs alone (ccTLDs are not supported). This requires an additional API access purchase ($250/year) and setup fee. Please contact us after purchase to enable this option.
Install on multiple secondary servers (see below).
Ability to run lookups from multiple secondary servers and update a single central database on a primary server.
A site license to Watch My Domains ISP, the stand-alone Windows desktop software. This will cost you $950 if purchased separately. This is a time limited offer available now.
Additional scripts and tools that will be made available over time.
The professional license will allow you to use the application without any restrictions within a single company / corporate network and includes 100% of the web application source code.
Gold Edition
Complete unencrypted source code.
All features of the Professional License
3 Years of free upgrades, updates and complete technical support (email, online chat)
Important
Each license (professional, standard or basic) is for the single individual, company or organization it is originally licensed to and may not be shared or resold. You may use your license to manage domains belonging to your customers, however the application should be installed only on your server.
Platinum Edition
Complete unencrypted source code.
All features of the Professional License
3 Years of free upgrades, updates and complete technical support (email, online chat)
Free installation and integration with existing website.
Free, on demand custom code development (limited to a maximum of 30 hours per year)
Server side maintenance (please see the Notes above)