Domain Name Filter Pro - Try Before Purchase
Completely Risk Free
This is the trial copy of Domain Name Filter Pro v3 for Windows. You can download, install and fully evaluate the application before purchasing.
Safe To Install
The software is digitally signed and authenticated. Windows will identify the publisher as Softnik Technologies. You will need the Windows administrator password to install on Vista, 7, 8.x, 10 or 11
Evaluation Ended?
Please contact us to obtain a new trial license code if you see an "evaluation ended" message and you want to extend the trial beyond thirty days.
System Requirements
Windows Vista, 7, 8.x, 10, 11
Domain Name Filter Pro will work on Most Linux Systems if you install Wine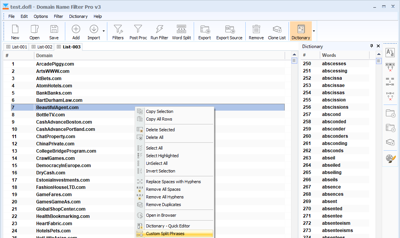 click to zoom
Previous Versions
---
We recommend that you obtain the latest version 3.
Please note that in most cases you can continue to use older versions even if the official support has ended.
You can purchase an upgrade to v3 (if you own a v2 license) at a special price.