Purchase Domain Name Filter Pro for Windows
Software Bundle
Instead of buying only Domain Name Filter Pro, pay just $16 more and get Domain Name Analyzer Pro also. This offer is available only on Single User License
Special Offer
Not interested in the special offer? continue below...
Option A: Buy Using Paypal

Secure shopping made faster, shop without retyping payment details. You can use your credit card even if you don't have a Paypal account.
---
---
Option B: Buy From Fastspring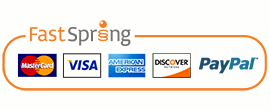 FastSpring accepts credit cards, PayPal, Amazon Payments, Bank Wire Transfers, Check or Money Order, Purchase Orders & certain Real Time Bank Transfers.
---
Option 1: Single User License - $59 $97
---
Option 2: Site License - $195 $297
You will be asked for the licensee name after you enter payment details
Single User License
Each licensed copy is for use by a single person. With each license you can install the software on one work computer plus an extra backup computer or notebook.
Site License
Site License (Best Buy) allows you to install the software on any number of computers belonging to the company at a single physical location.
Note: You can upgrade from single user to site license at any time by paying the difference in price.